We all wish to live comfortably without any worries buying the latest stuff that is made to look indispensable to us from a 5G Smartphone, light & powerful laptop, fast & powerful bike, a spacious cool car, even a swanky looking luxurious house to be happy. But not all of us are born in wealth, are child prodigies or make all the right decisions to get there immediately after our studies. But that doesn't mean that we cannot but have a undergo a rather vigorous journey to get there. Your starting point can be absolutely anything say a person who could not complete their studies, someone who took into the wrong choice for their career, one who is stuck in a dormant job, or even a person who doesn't have the situation to work their way out. Again there are many ways to do it as well but one such is to start keep-up cash flow in your day to day life & finally go towards the path of positive and progressively growing cashflow.
Sounds pretty complicated, it really isn't as a more simple way of saying the above is to keep up with a Budget and increase your savings to make it grow exponentially. Now, did it seem to make sense, anyway let's keep discussing it in the lines of the term Cash flow itself! Just as a Business has cost, revenue and profit in our day to day lives, it can be termed as Earning, Expenses and Savings. 
All the events or things helps you to earn will be termed as Cash Inflow and similarly, all activities or events that make you spend will be termed as Cash Outflow. At the end of the day, the Cash you will have after Inflow and Outflow is termed as Cash Netflow. What you need to do start with is to always maintain a positive Cash Netflow on a fixed period basis like say a month meaning have money left over to Save. This is how you can keep up Cash flow in your life and the other way is not possible as then you will owe money to others. 
Now, as per the understanding of the above process, you can be certain that your Cash Inflow needs to be more than your Cash Outflow. To do the same one you need to be earning well enough from your job or business or primary income source. But that is the ideal situation as firstly our expenses keep changing from time to time and our lifestyle is relative to how much one earns, thereby unless your there is a good positive Cash Netflow end of the month you need to look at some additional ways to do it. By additional ways, we mean means increasing your Inflow or income sources that can even be passive or small but in the end, they do help significantly.
Let's check out some simple and easy yet effective ways to have a Net Positive Cash flow in your day to day life: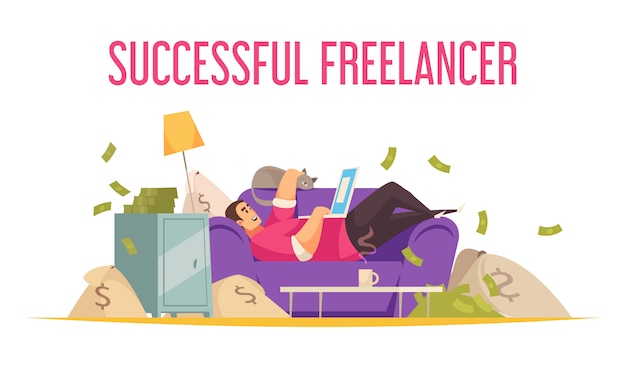 Maximizing the use your Skills from your Primary Income to Freelance:
When your workload is low on weekdays and making at least one day of the weekend productive by just doing the same bunch of activities you would at work instead for someone else is Freelancing. You may make pretty less in the start but as your work gets better recognised by clients, you can expect a huge alternate Cash Inflow. 

Spending a portion of your free time to Earn Passive Income:
If you're the one who's got a tight schedule already making it difficult to work on other things, just spend some of your free time productively on instant earning opportunities such as taking paid Surveys for some time daily or weekly. On a periodic completion basis, this small Cash Inflow can become rather significant on a month's average.

Exploiting your Profile Assets such as your Network to Influence:
Some ways you can get a Cash Inflow are from sources and activities that may outright not seem like a form of work itself. Like when you scroll through your list of contact, Facebook friends, Linkedin Connections or Instagram followers, you may finally realise that you have enough to Influence by tying up with Brands for their promotion getting you a good alternate Cash Inflow.

Making every appropriate Conversation or Sharing thoughts to a Referral Opportunity:
As a responsible shopper, tech geek or just someone with good taste you may often have questions from others like where you bought something, what should they get or even take you along for some shopping. Since everything is available online, so is a way to refer them to that service and be rewarded for that. There are stores which give you long term rewards as well, helping you with some Cash Inflow indirectly.  

Getting the most out of your fulfillment of daily needs:
Introspection is the first step to solve anything and so is the problem of how to keep-up cash flow in your day to day life. Start with analyzing your Cash Outflow to see if you're spending right and if there are ways to optimize it such as ordering in bulk, saving delivery costs, shopping during Sale, using coupons and finally getting Cashback on all orders as that will get you a perpetual Cash Inflow for every Outflow that you make.
Implementing some of the above ways in your day to day life, you can definitely expect to become Cashflow positive and get to a High net worth individual one day!