Find the best places for Adventurous Bike Trips in India 2019
If biking is in your blood, you want to experience the wind in your hair or even get away from all the urban nuisance then a bike trip is a must either to finish the year 2019 with a bang or look forward to going on one at least once a month in 2020. In the city, conveniences like online shopping, anytime food delivery and even binging on Netflix rather than going out for a movie have become the norm. Feeling sunshine, rain, and the elements are almost nil. When was the last time you saw a magnificent view, clear limitless sky or the majestic ocean?
1. Bangalore to Chickmagalur Road Trip
Say you live at the Silicon Valley of India and are looking for a break from the monotonous lifestyle and want to ride through historic towns, green roadways and uphill, Chickmagalur is the perfect ride for you. Situated around 243.2 km from Bangalore you can reach in 5 hrs tops with a couple of rest stops. Also visit interesting places on the way like Shravanabelagola, Belur, Manjarabad fort and others based on the route chosen. This short getaway is perfect for a two day weekend or you can extend it further to some more natural scenic spots and treks like Mullayanagiri, Kudremukh, etc.
Distance: 243.2 KM
Time Taken: 4 h 29 min
Travel Road: Via NH75
Best Time: September to March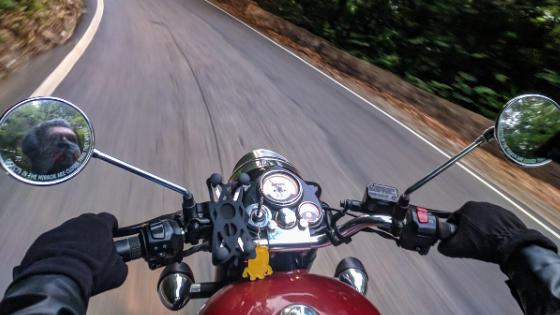 2. Mumbai to Lonavala Road Trip
Life in the financial capital can be too stressful and getting away for a long weekend can be pretty difficult which is why a quick short ride can make all the difference. As a Mumbaikar, you may have visited Lonavala at least once with your family, from school or with friends but the question is if you have gone there solo to ponder, be with yourself or clear your head? Just imagine, a short drive of 90 km from the city that transforms from the hustle and bustle of the city to a lush, misty and chilled paradise. After you enjoy the awe-inspiring views, check out some scenic spots and feel like extending, you can head over to Khandala which is just another 50 km away. Don't have a bike that you can cruise in, just Rentrip anytime rather than borrow from someone. 
Distance: 83.1 KM
Time Taken: 1 h 41 min
Travel Road: Mumbai Hwy
Best Time: b/w October and May
3. Srinagar to Leh Road Trip
If there's one ride in everyone Indian's bucket list then it has to be the one across Leh Ladakh. The barren, snowy high altitude landscape will give you a life-altering experience that cannot be found in any other way. Be it someone with a writer's block, an artist with an inspiration void or anyone who's rather confused or needs to forget something, heading to the Himalayas can help you find what you want. The longest and most difficult ride in this list at 700+kms and an elevation gain of 6000ft it is definitely not for the faint-hearted. Along the endless and dry route, you will come across Buddhist Monasteries, water crossing, rocky paths, and even landslides all that will make you appreciate life. Rule out a typical road trip as it is important that you go in a pack for this one with bikes made for this terrain always available on Rentrip.
Distance: 421 KM
Time Taken: 10 h 19 min
Travel Road: NH1
Best Time: b/w April to June
4. Kolkata to Darjeeling Road Trip
Want to literally travel across an entire state that will have you go from a seaside city to the hills where the Brits liked to lay back. From the most densely populated city in India where getting space to sit in the local tram would mean a good day, transcend yourself to the place where the world's famous Indian tea comes from. Also known as the Queen of the mountains, Darjeeling is the gateway to the northeast. The ride is long and is better off being covered in two stretches with the first being Siliguri that can take almost a day in while going in a decent pace so that the second day can be a quick ride and start off with the train ride, sightseeing or experiencing the local culture and cuisine. While such a long ride may seem fun, make sure to pre-plan taking all safety precautions in mind. You can advance book your ride on Rentrip even a month in advance.
Distance: 616.6 KM
Time Taken: 15 h 12 min
Travel Road: NH12
Best Time: February, March, and September to November
5. Jaipur to Mount Abu Road Trip
If you're from the royal city of Jaipur then man-made splendor is a common sight to you. From the umpteen palaces, forts to even homes that are lavishly designed, you may need a detox and experience the nature for a change. By that, we mean you can beath the heat too by spending time in the Shimla of Rajasthan and have a blast getting there. It is about 500 km in distance but there are quite a few interesting stops on the way such as Ajmer, Pali, and others. On reaching, you will be amazed by the greenery and to doubt if you're in Rajasthan or not in the first place. Go on a boat ride in Nakki Lake, spot some rare animal species in the Wildlife sanctuary or be inspired by the artwork in the famous Dilwara temples. It is a must trip to do that you can affordably from Rentrip especially in the summer.  
Distance: 494 KM
Time Taken: 8 h 28 min
Travel Road: Via Beawar – Pindwara Rd
Best Time: b/w November to June
6. Hyderabad to Araku Valley Road Trip
If you're from the land of the Nizams then traffic, commotion, and noise are common dreading you, to get away from them time to time. Where, there are a few short trips that you can go to, ones that put a smile on your face are long such as the ride to Araku Valley. Spanning a distance of 600kms you sure need to have a big motivation if you're planning to go by bike. With multiple routes, you can choose the one via Vishakapatnam to experience some sand between your feet. On reaching the valley, feel peace and tranquillity by being one with nature. There are quite a few places to see like the Borra Caves which is like a trek but with rocks above your head. If your concerned about whether your bike can go the distance in one day, best that you rent it from Rentrip as they have unlimited mileage policy so no need to pay for those extra kilometers.
Distance: 659 KM
Time Taken: 13 h 26 min
Travel Road: NH30
Best Time: January
7. Delhi to Agra Road Trip
Some bike trips are about laid back riding to calm their mind while for others it's a more adrenaline rush kind of experience that they cannot get enough of especially in Delhi where traffic, pollution, and even the Odd-Even rule can hamper getting that rush. A quick fast ride to escape it all is Agra and now you can get speed to by zooming across in the Yamuna Expressway. You can cover the distance of 225 km in just 3 hours if you leave early as the multilane highway is your friend. Reach Agra to head to the Taj Mahal if you haven't seen it or relish on some DHabas or Mughalai cuisine along the way. Some other places to see are the Bacha Taj, Meena Bazaar for shopping and the Agra fort among many others. If you plan to stay longer then take a tour of the ancient city of Fatehpur Sikri. A quick ride can be even rented on an hourly basis on Rentrip for any of their bikes.
Distance: 233.1 KM
Time Taken: 3 h 54 min
Travel Road: Via Taj Express Highway or Yamuna Expy
Best Time: b/w November to March
8. Bhubaneswar to Puri Road Trip
The famous Puri beach needs no introduction to those in its state capital as any weekend as an outing from childhood people are familiar with it. From letting the sea greet you and go back innumerable times to going surfing and trying out other water sports the places have a lot to offer for a fantastic one-day getaway. The ride to at just 75 km lets you do it all in a day from having a great time cruising along the highway especially if you start at dawn. Another leg that you can add to the trip is Konark to see the world-famous Sun temple that would be less crowded early in the morning. Doing so you would cover the well-known journey known as the Golden Triangle which is a quick and fun trip to do on a bike without worry about strain or discomfort. That's not all if you are not satisfied with any bike booked on Rentrip get 100% money back so why think twice?
Distance: 68.4 KM
Time Taken: 1 h 22 min
Travel Road: NH316
Best Time: b/w July to March
9. Chennai to Pondicherry Road Trip
One stretch that every Chennaiite is proud of is the ECR or East Coast Road which has the sea on one side and many beach houses with parties that go on all night long. The destination that many have is Pondicherry, a union territory where taxes are exempted for a lot of dear things. A trip that is around 150 km long with few interesting spots like the famous Mahabalipuram temples, Crocodile park to check out on the way. One of the most scenic drives that you should definitely do with a powerful bike for feeling the rush though responsibly. Check'em out on Rentrip where such bikes are offered at the lowest prices than anywhere else with exclusive offers like up to 40% Cashback!
Distance: 165 KM
Time Taken: 3 h 20 min
Travel Road: NH32
Best Time: b/w October to March
10. Ahmedabad to Rann of Kutch or White Rann Road Trip
Want to be transported to a place where you feel like it's heaven like it's shown in the movies where everything is white? The closest thing to that is a salt lake where everything is white because of the dried-up salt that shines with sunlight that you can experience first hard at the Rann of Kutch. The ride being 330 km long is a very transformative one as you can see the surrounding change from green leafy vegetation to dried up grasslands, finally becoming arid barren lands without any moisture content. Something that will make you wonder about life itself and how it started with some answer you can get by visiting the Fossil parks and see excavation dinosaur fossils found in very places in India. The night at the run with a full moon can really be a magical experience as you can see the salt crystal sparkling brightly. Rough terrain means capable bikes that you can get on Rentrip with an exclusive discount of Flat 10% plus assured cashback.
Distance: 414 KM
Time Taken: 7 h 24 min
Travel Road: NH947
Best Time: b/w November to February
Give yourself some real freedom and get on a bike trip choosing one of them or keep all of them in your must-do list and have a blast!